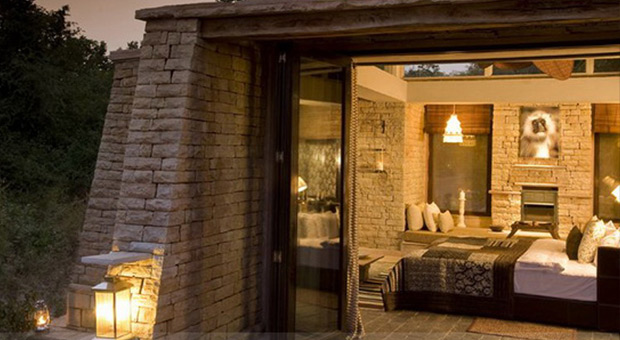 Located on the edge of the stunning Panna National Park, home to tigers, sloth bears, and over 200 species of birds, Pashan Garh provides the perfect escape for the nature enthusiast.

Flying into Khajuraho Airport via Delhi, you'll be chauffeured to Pahan Garh, located an hour away in the Vindhya Hills along the pristine Ken River. The lodge sits on the border of Panna National Park, a wildlife preserve dominated by tropical forests, deep ravines, and cascading waterfalls.

The nearest airport is Khajuraho Airport : 40 km / 25 miles

A cluster of stone cottages perched on a hill overlooking Panna National Park, Pashan Garh is a luxurious safari lodge that offers guests magnificent views of the jungle.

Wake to the sound of birds singing in the lush jungle surrounding your cottage, and step out on your private terrace to watch the nearby water hole for wildlife. Take a dip in the infinity pool to cool off in the heat of the day. Visit the World Heritage Site of the temples at Khajuraho to marvel at the thousand-year-old erotic sculptures. Drive out in a 4x4 with your nature guide on safari in search of tigers, leopards, sloth bears, and crocodiles. After a busy day in the jungle, relax in the dining room or out on the veranda and relish the complex flavors of traditional Indian dishes - or learn to cook them yourself in the interactive kitchen under the tutelage of the expert chefs.

Pashan Garh takes getting back to nature to a whole new level.