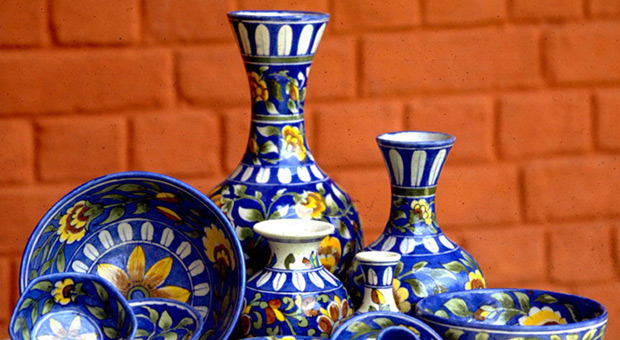 If you wish to get a glimpse of India's art & craft, a feel of the culture of the country within the purview of the city then Delhi is the place to be in. Delhi with it's innumerable shopping complexes is able to cater to every individuals desire to acquire items that have the essence, the originality of a particular region in India. Although there are shopping complexes in almost every locality in Delhi, Connaught Place, Karol Bagh and Chandni Chowk are the principle shopping areas. Multiple emporia representing every state of the country are to be seen at the famous Baba Kharak Singh Marg, near Parliament Street. Each state emporium has a slice of the best of its crafts under one roof at government-controlled prices.

The Central Cottage Emporium in Jawahar Bhavan at Janpath is undoubtedly worth a visit for anything ethnic anc chic. It has almost anything that you might desire to buy. From furniture to clothes, to shoes that are typically Indian, to small gift items that could work as souvenirs, the Cottage Emporium has it all. The quality is absolutely the best and the prices are reasonable enough. In the rustic background of the Crafts Museum at Mathura road, one can pick up great bargains on items like shawls, pottery and paintings. A shopping complex of a similar kind is to be seen in Hauz Khas. Popularly known as The Village; you can find designer labels, authentic jewelry and gift items within the complex. The Hauz Khas Village is a complete experience with its ancient buildings, designer stuff and a list of restaurants.

For those who are interested in antiques, Sundar Nagar is just the place to be in. Of course for cheaper antiques, it is Chandni Chowk. While in that area, Dariba Kalan, a narrow street, may be visited for gold and Silver. Chandni Chowk is famous for jewelry and saris, so for those who wish to get a feel of the tradition of India, Chandni Chowk is the place to visit. Chandni Chowk is also the place to buy silverware and jewellery.

Karol Bagh is yet another famous shopping complex in Delhi of similar nature. You can find a variety of Indian clothes, shoes and accessories out here as well as precious jewelry and bridal wear. What's more, this place sells automobiles and related accessories too.

For casuals, Janpath with its rows of shops, Sarojini Nagar and Lajpat Nagar are the places you would like to visit. These places offer variety of novelties, gifts and handicraft items at bargain prices. Sarojini Nagar also has this rather big market of export surplus clothes. Here you will find clothes made for GAP, Van Hausen, Joe Boxer, Levis being sold for a song. All these clothes have been made in India for these designer brands and are sold just because they are surplus. Terrific bargains!

Dilli Haat, near INA market, developed by Delhi Tourism has on display almost everything that would be very typical to a particular region in India. It has been designed to be an upscale version of a haat (generally a weekly traditional market). Unlike the traditional haat where the market itself is mobile and transient, in this case it is the craftspersons who are ever changing - thus offering a kaleidoscopic view of the richness and diversity of Indian culture and handicrafts.

This market is spread over a six acre spread with imaginative traditional rural architecture and provides an ambience for the market. The stone and brickwork paved paths interspersed with grass patches make browsing and ambling fun. The not too large but diverse food court bring the cuisines of different states together.

This is a good places to look at or buy handicrafts to do with rosewood and sandalwood carvings, leather wear, fabric, drapery, gems, beads, metalware, and garments is variety of fabrics. You can contact their office at Phone : +91-11-4629365, 6119055

Delhi also has a very popular underground shopping center called Palika Bazar. This shopping center like most shopping complexes in Delhi has variety of goods on display and at a reasonable cost. However, while shopping here you need to be good at bargaining, as generally the prices quoted are high.

A recent phenomenon in Delhi has been the steady rise of foreign collaborations in consumer goods areas. With extremely steep prices abroad, foreigners visiting India can pick up items of international brands like Benetton, Ray-Ban, Adidas, and Pierre Cardin at a comparatively lower price. A common sight in South Delhi, rather in Greater Kailash and South Extension is the presence of multi storeyed departmental stores. These stores are complete in themselves in as much that they have on display items of all kinds ranging from cosmetics to clothes to shoes to books to household items. If you wish to buy quality products and do not mind spending a little bit more, then these stores are worth visiting.

For music, The Music Shop at Khan Market, Rhythm Corner at South Extension, Blues in Defence Colony and Sheilma and Pyramids in Palika Bazar should be visited. Although you will find music available almost everywhere, the quality of music in these shops is better.

If you want to break a bit out of the ordinary, you might want to spend a little time in the Chandni Chowk area. As mentioned earlier, Chandni Chowk is a big market for silver, and for lot else. Fabrics, woollens go cheap here. Take a diversion to one of the by lanes into Chawri Bazaar and Nai Sarak to see Delhi's big stationary and books market. Take another bylane to get into Parathewaali Gali. This bylane houses the most number of parathawallahs (parathaas are kind of friend flatbread, which could have a variety of stuffings or be without) on one street. Unfortunately as the tastes of people get more and more urban, the parathaa shops are giving way to the more profitable garment shops. And no visit to this area is complete without sampling a jalebi (a sweetmeat made of flour, fried and dipped in sugar syrup) at the jalebiwallah at the mouth of the lane to Dariba Kalaan, or visiting Ghantewallah's - a sweetshop more than 150 years old.. Walk forth a little more and you will reach a plethora of colors in Fathepuri's spice market. This market is situated almost at the end of road which leads to Chandni Chowk. All in all, this area represents to some extent Delhi's old worldly charm.

The closing days for the shopping complexes in Delhi is as follows:

* Sundays: Connaught Place, Janpath, Baba Kharak Singh Marg, Jor Bagh, Khan Market, Malcha Marg, Nehru Place, Sunder Nagar, Yashwant Place, Chandni Chowk, Sadar Bazar.
* Mondays: Defence Colony, INA Market, Jangpura, Karol Bagh, Lajpat Nagar, Sarojini Nagar, South Extension.
* Tuesdays: Greater Kailash, Green Park, Hauz Khas, Kalkaji, Safdarjung Enclave, Vasant Vihar, Shahdara, Yusuf Sarai.

Shopping in Delhi is a delight so if you are interested in shopping and you wish to grab a fragment of Indian culture then Delhi is where you would like to explore the possibility of doing so.