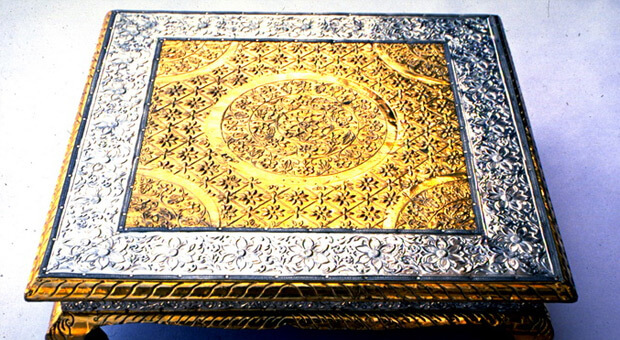 Kolkata is also renowned for its fashion designers. Look for garments by the promising local Sabyasachi Mukherjee, who is taking Kolkata's fashion industry to new heights (there's an outlet at 37/1C Hazra Rd.; tel. 033/2454-3005). Another name to reckon with is Anamika Khanna, recognized for her flamboyant fashions for both men and women. If time is short, drop in at 85 Landsdowne Road (tel. 033/2486-2136), a one-stop shop stocking all the major Indian labels. However, if you're looking for something very ethnic and traditional, Shamlu Dudeja's workshop is where you should head (4/1 Alipore Park Rd.; tel. 98-3002-6288; call for appointment). With a team of rural women, Shamlu has successfully revived the art of Kantha embroidery, making it into a much sought-after craft both locally and abroad. Smaller but also worth visiting are Women's Friendly Society (29 Park Lane; tel. 033/2229-5285) and Good Companions (13 C, Russell St.; tel. 033/3292-9612) for hand-embroidered linen from the villages of West Bengal. For Bengali handicrafts, visit Bengal Home Industries (11 Camac St.; tel. 033/2282-1562) or Sasha (27 Mirza Ghalib St.; tel. 033/2252-1586). You can pick up a wide range of Indian curios, along with everything from saris to silk carpets, from the government-operated Central Cottage Industries Emporium in Chowringhee (7 Jawaharlal Nehru Rd.; tel. 033/2228-4139 or -3205). Hugli (Hastings Court, 96 Garden Reach Rd.; tel. 033/2489-2104) and Khazana at the Taj Bengal hotel are two good options for handicrafts as well; although the prices are high, quality is excellent. If you feel you can lug some heavier stuff back home, drop in at Minnoli (Karnani Estate, Unit G-I 209, AJC Bose Rd.; tel. 033/2289-1307), where owner Sharad Narula shows his obvious passion for antique furniture. Proud of a collection that includes everything from silver spoons dating back to the first World War to 60-year-old glass lamps, Minnoli encapsulates the very spirit of Kolkata.

Inevitably, Kolkata is also home to one of India's best bookstores, Oxford Bookstore
(17 Park St., Kolkata; tel. 033/2229-7662 or 033/2217-5266;
oxfordmail@apeejaygroup.com), which carries a good range of local and imported periodicals, books on India and Kolkata, and fiction. Another shop worth investigating is Family Book Shop (1A Park St.; tel. 033/2229-3486 or 033/3290-6003); it's tiny but has an interesting upstairs section. You can also try Crossword on Elgin Road or Starmark on Lord Sinha Road.

Shop 'till You Drop: A Unique Tour of Kolkata

Given that there is so much to see and do, one practical and rather enjoyable alternative way to see the city is to opt for a personalized shopping tour, which enables you to visit antique furniture bazaars, textile shops, art galleries, and food and flower markets. A typical day with Devika Duncan (tel. 033/2288-5630; info@glenburnteaestate.com) also includes sampling local Bengali cuisine and paying a visit to the famous Bengal Club, not normally accessible to regular tourists.
Read more: Read more: http://www.frommers.com/destinations/kolkata/3531010031.html#ixzz0nVn9bVIA