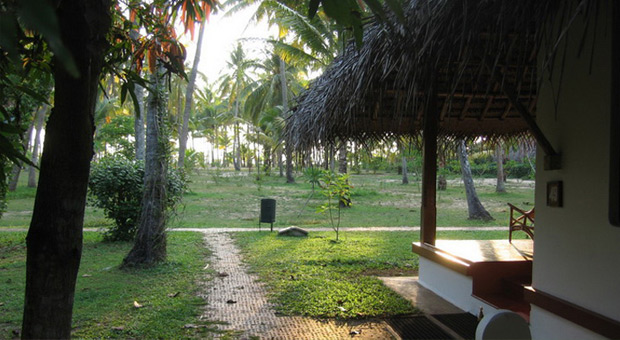 Marari Beach is an endless vista of sand and surf, but it is more. An authentic experience of the world of Kerala's traditional fishing villages, and a recreation of an ancient, harmonious way of life.

Marari Beach sprawls across 55 acres of lawns, far-flung lotus ponds and whispering coconut groves, all threaded through with stone- flagged pathways. A windbreak of palms runs the length of the property, a protective cover that reduces even the gustiest sea winds to mere caresses. And beyond is a milk-and-azure ocean, fringed by a beach more ochre than yellow, a sand-meets-sea combination you're not likely to find anywhere else.

Modelled on the fishermens' dwellings of Mararikulam, your accommodations are a fine balance between traditional form and modern function. The roof is palm thatch, but we've added a concrete base that keeps the air-conditioning in and the odd insect out. Bathrooms too, combine modern fixtures with the traditional Kerala open-roofed style. And the little taps outside each cottage are another local touch. The fisher folk use them to clean the sand off their feet, and you can do likewise. Barefoot is a great way to be at Marari Beach, even indoors!

Cottages like the one we've just described form the standard accommodation , but if you favour more private luxuries, maybe you'd like to pick one of our pool villa cottages, which are suite-style and have a secluded walled courtyard spacious suite-style accomodations and of course, your own private plunge pool.