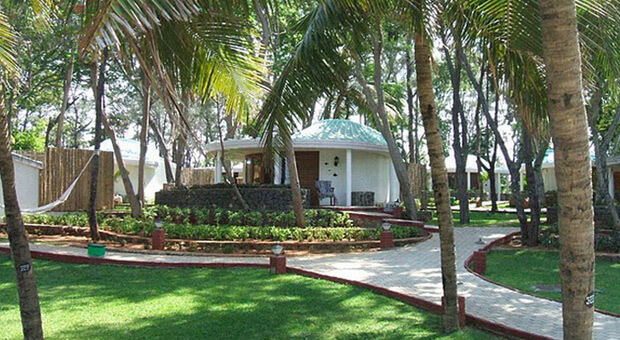 Built on the site of a 17th-century Dutch fort, this bright, breezy, beachfront resort is set on 8.8 manicured hectares (25 acres) with a labyrinth of tidy, shrub-lined pathways. It's a great refuge, within easy striking distance of both Chennai and Mahabalipurum.

Book one of the shell-shaped cottages scattered about the cropped lawns -- these are delightful, with bamboo-enclosed alfresco showers, private hammocks, bright interiors in shades of orange, yellow, and green, and breezy patios with Chettinad swings. Those cottages facing the sea directly (nos. C4-C14) are the best spots from which to admire the surf.

Larger luxury sea-facing villas are also available; each one has a semi-private garden with palm trees supporting your own hammock and cane-strung rockers on a covered porch. Interiors are a little more formal and old-fashioned, but also more spacious, with high-pitched ceilings and an indoor bathroom that has a separate tub and shower.

When you're not out exploring ancient temples, you can try out the huge number of activities on offer, laze around a pool with a sunken swim-up bar, stroll along the beach to the nearby village of Kovalam. Peruse the menu at the thatched beachside Bay View Point, or dine on Mediterranean fare at the new Upper Deck. Both are lovely dinner locations, particularly when the moon rises ahead, creating a glittering crease in the swirling velvet black of the ocean.