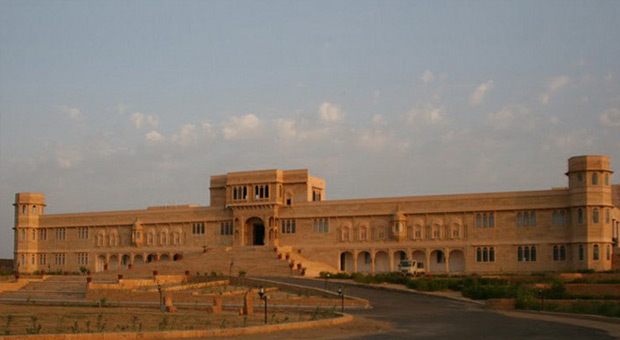 The Thar Vilas is an authentic luxury Hotel, Design, to serve as a comfortable oasis for present day travelers in their quest for the charms of Rajasthan.

The spacious rooms at Thar Vilas are furnished with fine replicas of period furniture carved from sheesham wood. All rooms have attached bathrooms with bath tubs and western style fitting to cater the needs of the elite visitors. The restaurant serving delicious Rajasthan and western creations is on the first floor at the junction of the two blocks.

The lower and larger Block is rectangular and surround a modern swimming pool in the middle of a green lawn. This is the sunny block for the cool winter, where the guests are entertained.

The guests are entertained with kalbelia Dance at pool site.

Legendary Rajasthani hospitality ensures a hearty welcome as every door opens to the visitors eager to savor the fine depictions of Hindu mythology. Folk art and floral motifs.

Amazing legends of heroism and romance still from its equally amazing architecture, that still stands to narrate its tale of a bygone era. The magic of Rajasthan is unequalled in the world for its heritage, culture, safaris, sand dunes and lush green forests with its wildlife.

Its extravagant splashes of bright hues against the desert landscape and the purity of its dry and sandy reaches, the miniature elegance of its small villages and impeccably maintained forts brings alive the story of the yore.

Like the glint of silver, partially hidden in sand, Jaisalmer catches the eye of a discerning visitor, compelling a closer look. It is an important destination of the western state of India, Rajasthan. A desert city, it was founded by the Bhatti Rajput Chieftain Rawal Jaisal in the year 1156. Located at the heart of the great Thar Desert, it offers the visitor and enchanting world of fable domestic and foreign tourists., colour, and history. Moreover, the magnificent wood-and stone- carved manisions and buildings display the love and interest Rajputs had for the fine arts.