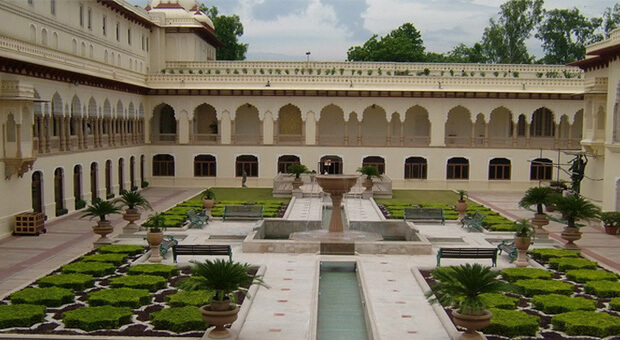 A gorgeous residence from the Rajasthani era of princely opulence, Rambagh Palace in Jaipur is a legendary hotel fit for royalty.

Once the formal residence of the Maharaja of Jaipur, Rambagh Palace is a lavish hotel of royal lineage. True to its origins, the Rambagh Palace maintains an elegance befitting kings and queens.

Book one of the Royal Suites, so-named since they were the former sleeping chambers of the Maharaja's family. The gorgeous Rajasthani motifs, stonework, carved pillars, and rich silks are sure to make you at home in your temporary kingdom. And though you may never want to step outside your palace, it's your royal duty to explore the picturesque Pink City of Jaipur, an historic city of holy temples and ornate palaces.

After a day of negotiating the labyrinthine city streets, Rambagh Palace offers a decadent respite for tired feet. Book an Indian aromatherapy treatment at Jiva Spa, and enjoy a pre-dinner cocktail in the stylish Polo Bar. Then wine and dine under a crystal chandelier in the grand dining hall, Suvarna Mahal, where gold-plated tableware and pristine china are de rigueur.

Rambagh Palace in Jaipur, India is a 20-minute drive from Sanganer Airport. It is located close to the walled Pink City, spectacular forts, and the unique shopping bazaars of Jaipur.
The nearest airport is Sanganer Airport: 11 km / 7 miles.